Real mojo.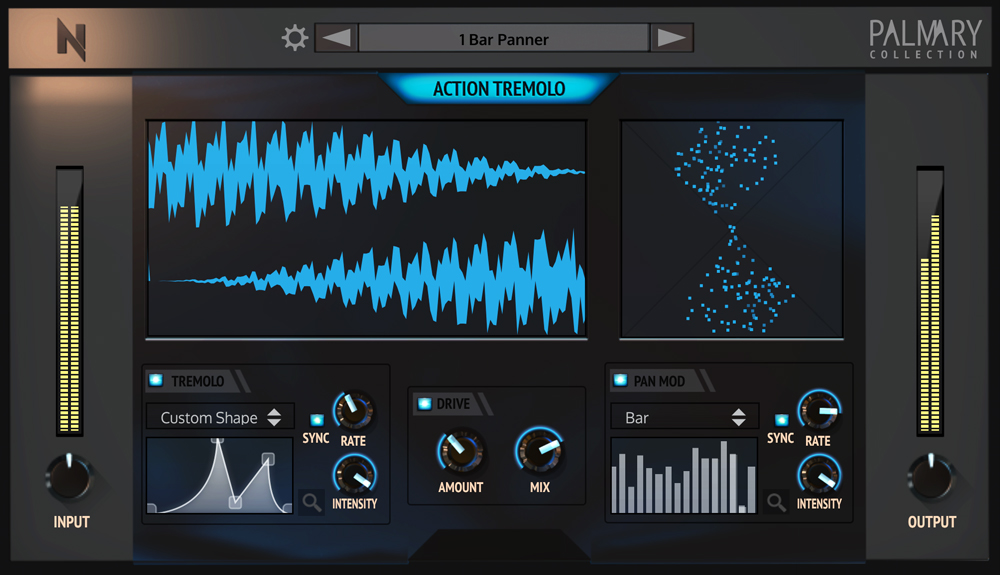 Action Tremolo is an advanced pan and volume modulation unit with Analog Saturation engine. Action Tremolo allows you to manipulate sounds quickly in a very intuitive way. Thanks to the detailed modulation system, Action Tremolo is a go-to plugin for thousands of users. Easy to use, simple and highly customisable UI controls makes it a total voodoo.
Advanced Modulation System
There are three modulation sources: a custom shape envelope follower, the LFO with 5 waveforms, a 32-step sequencer and each modulation sources can be assigned in-sync or free-sync modes.
So Much Use Cases
Stereo Enhancement, Fade In / Out, Looped innovative effects, Distorted Textures, Rare sound effects, Side Chain and much more possibilities are available on Action Tremolo. With unique advanced modulation options and analog character, Action Tremolo is a multi purpose beast!
Quickly Evolved Sounds
You can be so experimental or innovative with twaking parameters in depth. Smart and minimal controls allows you to create evolved, catchy and txtured sounds very easily.
Download Action Tremolo for FREE
[sociallocker]
Subscribe to get download links, news, updates and inspiration. Click here to read our policy.
[/sociallocker]
Top Sellers
Sale!

The champion vocal processor makes life easier. The choice of thousands of vocalists, producers, and professional mixing engineers.
Product Specifications
Channel Components
| | | | |
| --- | --- | --- | --- |
| Name | Mono | Stereo | Mono-to-Stereo |
| Action Tremolo | | ✔ | ✔ |
License Protection
NoiseAsh products use a completely software-based licensing system. No USB or hardware dongles, no special drivers are needed. The activation process is pretty easy and straight forward which provides both Online and Offline Activation.
No USB Dongle
No USB or hardware dongles are required
Activations
1 license up to 3 computers
Online & Offline
Both Online and Offline Activation options are available
Similar Products
Sale!

League of the phenomenal British-style studio gears as a perfect bundle!

Sale!

High-performance British style analog eq unit which has a very sweet musical tone that doesn't sound muddy or harsh even in the extreme settings.

Sale!

The perfectly enhanced version of his big brother "NEED 73", with switchable more high band frequencies, wide/narrow Q settings, modified filters and slightly different preamp.

Sale!

Very special British Style Class-AB preamp/eq unit that has been used on countless classic top platinum-selling albums.

Sale!

One of the most famous and desired British Class-A preamps and equalizers ever made is expanded with the most powerful features.

Sale!

Larger than life, extremely accurate circuit emulation of the classic British console Preamp - EQ unit with powerful M/S processing.

Sale!

All of the 4 Legendary British-style preamp models in one pack. NEED 73, 84, 81 & 31102!

Sale!

All legends in one bundle for a great value. Outstanding combination.

Sale!

Elite production tools for much better mixing. There are 10 easy to use great sounding plugins in this bundle.

Sale!

The champion vocal processor makes life easier. The choice of thousands of vocalists, producers, and professional mixing engineers.

Sale!

3 Legendary passive equalizers in one GUI. Outstanding tone, exact character.

Sale!

Legendary passive equalizer for mixing and mastering.