That amazing piano sound from soundtracks.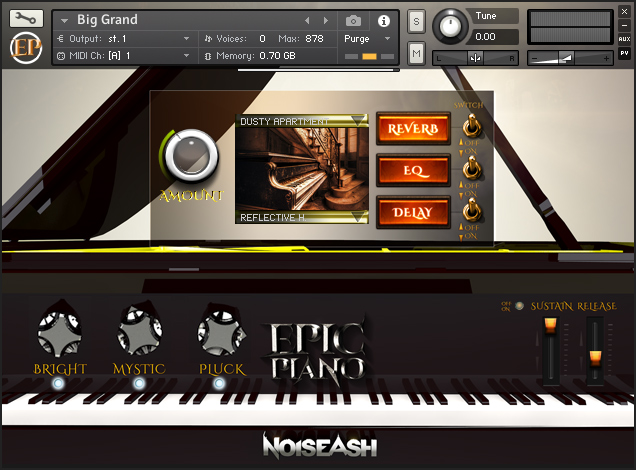 Wellcome to Noiseash Epic Piano Kontakt Library! Epic Piano is a versatile & realistic piano Instrument that sounds epic and mystic. It has thousands of pre-processed multi channel samples with classic vintage analog gears that sounds incredibly great for any productions. Also thanks to sustain and release controls, it can be used in sound fx or dark compositions.
Now you have a Real Piano, just like in the movies.
Delicious and Familiar
Almost every track needs some analog warmth & character. Making a weak-cold-lost track roar; requires some special magic. Heater does that for you! Adding true high quality analog character to your tracks is so easy now. With 2 famous classic Analog EQ models, Low and High frequencies can reach perfection. With also Stereo Widener, there will be a delicious familiar tone to everyone.
Time to Beef
Beef vocals, guitars, basses, drums, other acoustic instruments and even master channels up! From fat warm basses and shining bright vocals to boomy devastated drums and huge synth leads, lot's of legendary analog style warm tones can be reached very easily with Heater.
License Protection
NoiseAsh products use a completely software-based licensing system. No USB or hardware dongles, no special drivers are needed. The activation process is pretty easy and straight forward which provides both Online and Offline Activation.
No USB Dongle
No USB or hardware dongles are required
Activations
1 license up to 3 computers
Online & Offline
Both Online and Offline Activation options are available
Similar Products
Sale!

League of the phenomenal British-style studio gears as a perfect bundle!