Sweetest
Musical Tone.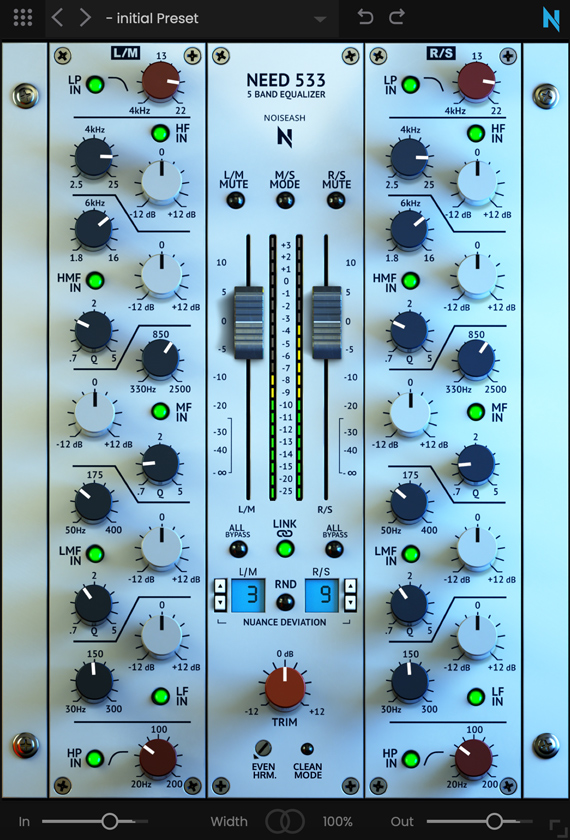 NEED 533 EQ is a 5-band high-performance analog eq unit that has its unique special Gain-Q-Frequency interaction engine. It has a sweet musical tone that doesn't sound muddy or harsh even in extreme settings! NEED 533 EQ is the expertly captured and extremely accurate circuit emulation that causes unmistakably great tones in both mixing and mastering sessions. Since the special analog curves shape and keep the sound boundaries always in the right musical area, it is almost impossible to make mistakes with it. Lovely musical curves, continuously variable frequency, and Q controls, custom made HP-LP filters, and modern Mid/Side processing features make this unit a flexible tool that shapes new sounds and controls any part of the audio spectrum in its unique way; so, use it on any audio source, even on a master bus to add a real character!
Expanded for much more Power
NUANCE DEVIATION SYSTEM
Nuance Deviation System (NDS) brings the sonic character deviations of the analog components, just like real consoles do!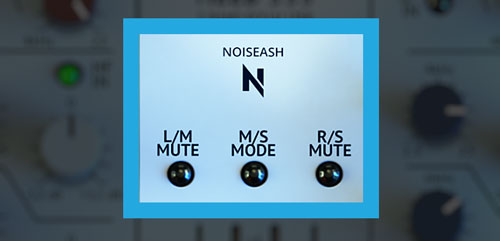 MID / SIDE
Expanded with modern Mid / Side processing which allows you to process mid and sides channels individually. That means much more fun and better-sounding mixes than ever before.
ADDITIONAL HP & LP FILTERS
Additional custom design High-Pass and Low-Pass Filters to get the most out of this vintage studio gear.
Extremely Accurate
NoiseAsh Audio is proud to bring the original vintage amplifier and eq units into your DAW. Expertly captured, totally detailed, extremely accurate analog models for sculpting your sound just like legendary top-rated British style consoles. Thanks to NoiseAsh modeling technology; warm, bold, and distinguishing analog characteristics, even little details are exactly here in the box now with NEED 533 Eq.
Nuance Deviation System
Analog domain components have some little tonal nuance differences which create some deviations concerning their theoretical values. Nuance Deviation System (NDS) is the NoiseAsh Audio proprietary signal processing model, which emulates the sonic character deviations of the analog components. Individual Left-Mid and Right-Side channels can be alternated with NDS. There are plenty of carefully modeled console channels and each number stands for a console channel bearing its deviation. With NDS, real tonal differences can be captured quickly!
Right in your DAW, very easily!
Innovative cutting-edge NoiseAsh technology has given the analog reality with a very light CPU usage, expanded modern features like NDS & Mid/Side options, and maximum accurate Anti-Aliasing Analog tone behavior. NEED 533 EQ is much more than an emulation. It's what every mixing/mastering environment needs for letting you enjoy all the warm tones of this vintage unique sound of the studio equipment, right in your DAW, in-the-box, very easily!
Product Specifications
Channel Components
| | | | |
| --- | --- | --- | --- |
| Name | Mono | Stereo | Mono-to-Stereo |
| NEED 533 EQ | ✔ | ✔ | |
---
License Protection
NoiseAsh products use a completely software-based licensing system. No USB or hardware dongles, no special drivers are needed. The activation process is pretty easy and straight forward which provides both Online and Offline Activation.
No USB Dongle
No USB or hardware dongles are required
Activations
1 license up to 3 computers
Online & Offline
Both Online and Offline Activation options are available
Similar Products
Sale!

The perfect bundle of the Soulful tone of the rarest & iconic Hit-Maker equalizers. Now it's in your DAW combining the latest modern features.