Perfect vintage midrange.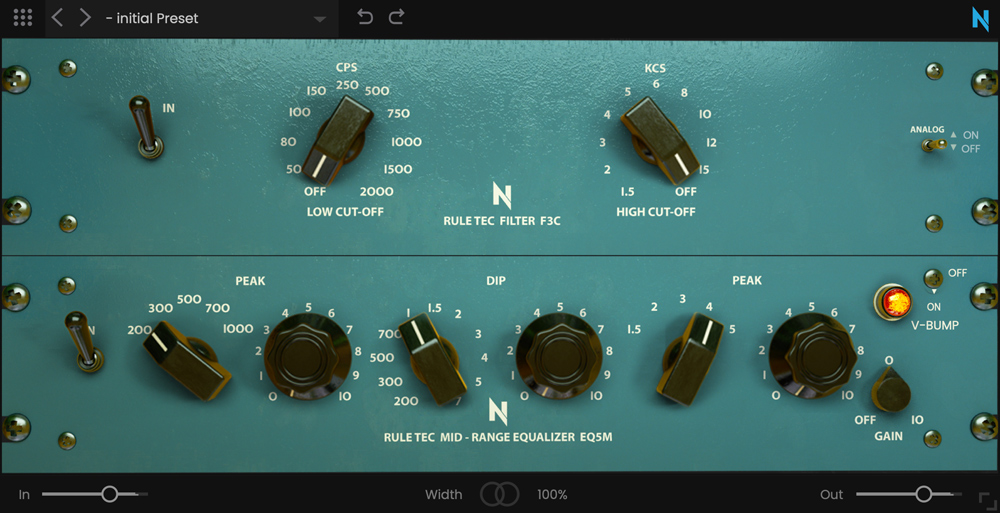 Legendary passive equalizers have long been a top choice of leading recording and mastering engineers since it was released. When it was first on the market; this custom-engineered and built by hand unit was a game-changer in recording studios, as you now could manipulate the sound even farther than before, bring it closer to the front of the mix, and make it feel as if you're in the room with the performer. With tons of research and hard work; we are proud to present extremely accurate models of these legendary equalizer units, Rule Tec® Collection. The legendary tone is here with all of the legendary signature features including the "trick".
Well known 2 Models in One Single Plugin.
F3C
Completes the collection with unique taming sharp high pass – low pass filters

EQ5M
Mid-range focused classic mixing and mastering equalizer
Legend from the History
The result is pretty amazing. All in one solution for legendary famous equalizer tone that you've heard in thousands of records for 70 years.
Interactive Analog Behavior
We've modeled lots of unique complex interactive analog behavior to present all signature characteristics of the original units' "a must-have tone". Same musicality, clarity, warmth, and character with original units which is immediately noticeable when tweaking frequency boosts.
On Every Track
Use it on every track. Just put it on the channel, and it will just sound great. Rule Tec adds a very desirable and subtle tube saturation to your signal even when the EQ is set flat. Rule Tec EQ5M is a perfect solution for both professional mixing and mastering for mid-range purposes. You really can't go wrong with it.
Product Specifications
Channel Components
| | | | |
| --- | --- | --- | --- |
| Name | Mono | Stereo | Mono-to-Stereo |
| Rule Tec EQ5M | ✔ | ✔ | |
License Protection
NoiseAsh products use a completely software-based licensing system. No USB or hardware dongles, no special drivers are needed. The activation process is pretty easy and straight forward which provides both Online and Offline Activation.
No USB Dongle
No USB or hardware dongles are required
Activations
1 license up to 3 computers
Online & Offline
Both Online and Offline Activation options are available
Similar Products
Sale!

The perfect bundle of the Soulful tone of the rarest & iconic Hit-Maker equalizers. Now it's in your DAW combining the latest modern features.