The Champion of his kind.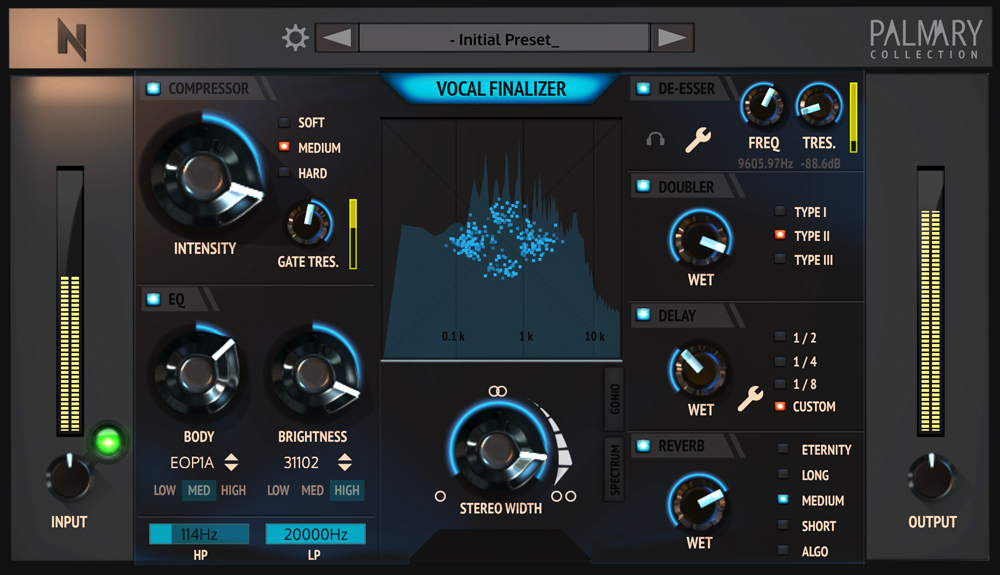 Vocal Finalizer is designed for holding "Vintage & Modern Characteristics – Simplicity – Wide Usability Range – Time-Saving" properties together. All of the used pieces in this combination are carefully crafted to give everything you need to reach a final ready-to-mix professional vocal sound from a raw vocal track.
We modeled lots of analog gears with our unique emulation methodology to make the vocal processing as much as easy for the user. The result is the authentic tone and character of the classic consoles and studio gears with superb sound quality. Take any raw vocal track and process it with a Vocal Finalizer. Now it's so easy to achieve the dream vocal tones!
Balanced and Polished
The vocal is the most important element of any song. Maybe that's why a mixing engineer or producer spends so much of their time perfecting their vocal tracks. Getting a vocal to sit just right in a mix is no easy task. You don't need to worry about that anymore. Get gorgeous results with ultra-simple controls…
Top 7 Famous Classic Vocal Effects. All in One!
You will find different variations of the top 7 most popular vocal effects on a single unit with the right settings and right amounts. Compression (3 types), DeEsser (Vocal Specific Dynamic EQ), Delay (customizable 3 types), Reverb (4 Static + 1 Customizable Algo reverb), Doubler (3 types), very special Classic Analog EQ Collection (Solid State, EQP1A, and 31102 types with 3 frequency ranges) and Stereo Wider effects are in your hands with the settings that are specifically used in vocals.
Customizable Real Analog Models
If you're looking for a truly high quality "Analog Character", quick and all in one vocal tone solution, "Vocal Finalizer" will be your "go-to" vocal fx processor". It will finalize your vocal track from "a raw track to professional record" with its magical processing power.
For those who want their taste, there are highly customizable parameters for digging deep. Every nuance was designed for getting the most performance from vocal tracks.
Simple or Nerdy
Quickly combining the vocal processing settings for all musical genres is just a few clicks away. So because of the simplified shortcut controls, you won't believe what you hear. Any kind of vocal track will turn into real records just like in your dreams. For those who want to play nerdy, since there are also detailed controls as much as simplified ones, Vocal Finalizer is the right place.
Product Specifications
Channel Components
| | | | |
| --- | --- | --- | --- |
| Name | Mono | Stereo | Mono-to-Stereo |
| Vocal Finalizer | | ✔ | ✔ |
License Protection
NoiseAsh products use a completely software-based licensing system. No USB or hardware dongles, no special drivers are needed. The activation process is pretty easy and straight forward which provides both Online and Offline Activation.
No USB Dongle
No USB or hardware dongles are required
Activations
1 license up to 3 computers
Online & Offline
Both Online and Offline Activation options are available
Similar Products
Sale!

League of the phenomenal British-style studio gears as a perfect bundle!