The most famous British Class-A
preamp and eq.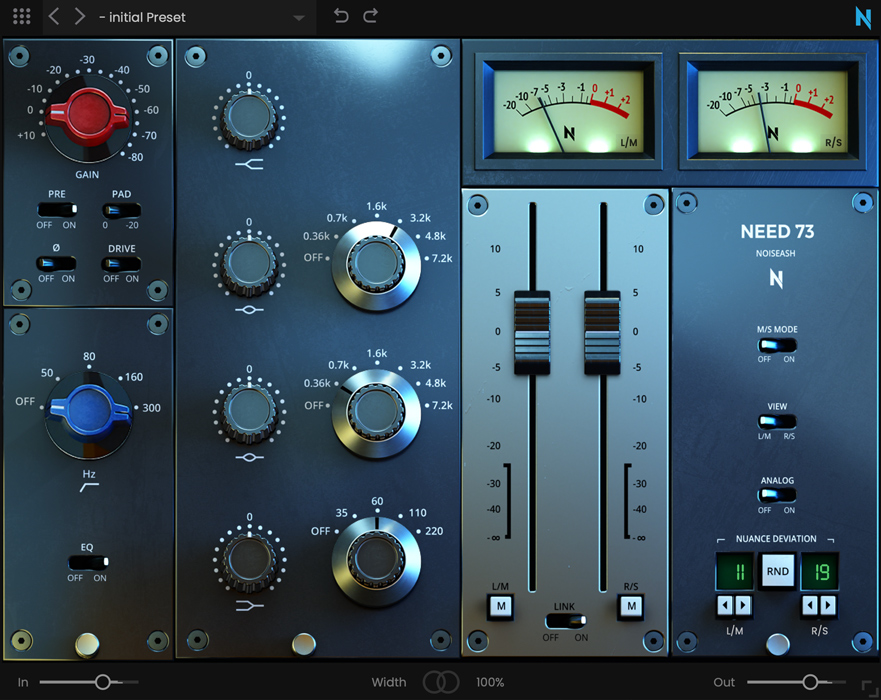 Inspired by one of the most famous and desired British Class-A preamps and equalizers ever made. Queen, Nirvana, Red Hot Chilli Peppers, David Bowie, Foo Fighters, Slipknot, Adele, Drake … the list continues. This unit has been used not only on classics but has been still widely used on the current records too. The extremely accurate end-to-end circuit emulation which is holding each small detail and true vintage tone of the phenomenal studio equipment. The Class-A transistor preamp and eq combination make the audio sources feel alive using unparalleled sheen, clarity, and unique analog saturation with anti-aliasing tonal quality.
Expanded for much more Power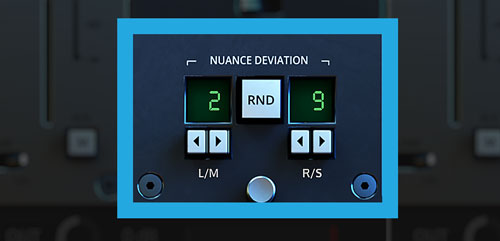 NUANCE DEVIATION SYSTEM
Nuance Deviation System (NDS) brings the sonic character deviations of the analog components, just like real consoles do!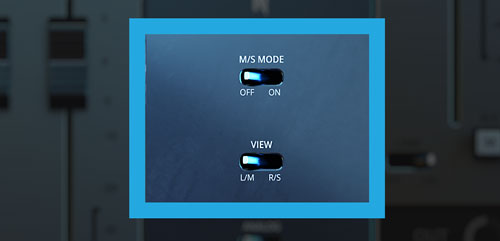 MID / SIDE
Expanded with modern Mid / Side processing which allows you to process mid and sides channels individually. That means much more fun and better-sounding mixes than ever before.
ADDITIONAL MID BAND
Completed to 4 bands with an additional mid-band to get the most out of this vintage studio gear.
Little Details Matter
NoiseAsh Audio is proud to bring the original vintage amplifier and eq units into your DAW. Expertly captured, totally detailed, extremely accurate analog models for sculpting your sound just like legendary top-rated British style consoles. Thanks to NoiseAsh modeling technology; warm, bold, and distinguishing analog characteristics, even little details are exactly here in the box now with NEED 73 Console Eq.
Just Like Real Consoles Do
Analog domain components have some little tonal nuance differences which create some deviations concerning their theoretical values. Nuance Deviation System (NDS) is the NoiseAsh Audio proprietary signal processing model, which emulates the sonic character deviations of the analog components. Individual Left-Mid and Right-Side channels can be alternated with NDS. There are plenty of carefully modeled console channels and each number stands for a console channel bearing its deviation. With NDS, real tonal differences can be captured quickly!
Right in your DAW, very easily!
Innovative cutting-edge NoiseAsh technology has given the analog reality with a very light CPU usage, expanded modern features like NDS & Mid/Side options, and maximum accurate Anti-Aliasing Analog tone behavior. NEED 73 Console EQ is much more than an emulation. It's what every mixing/mastering environment needs for letting you enjoy all the warm tones of a mythical piece of the studio consoles, right in your DAW, in-the-box, very easily!
Product Specifications
Channel Components
| | | | |
| --- | --- | --- | --- |
| Name | Mono | Stereo | Mono-to-Stereo |
| NEED 73 Console EQ | ✔ | ✔ | |
License Protection
NoiseAsh products use a completely software-based licensing system. No USB or hardware dongles, no special drivers are needed. The activation process is pretty easy and straight forward which provides both Online and Offline Activation.
No USB Dongle
No USB or hardware dongles are required
Activations
1 license up to 3 computers
Online & Offline
Both Online and Offline Activation options are available
Similar Products
Sale!

The perfect bundle of the Soulful tone of the rarest & iconic Hit-Maker equalizers. Now it's in your DAW combining the latest modern features.